Blake T.K. Matsuura, DDS
I was born in Honolulu, HI and grew up with my brother Blaine under the loving care of our parents in Mililani, HI. After enjoying a memorable educational experience at Punahou School, I attended the University of Southern California.
Entering college undecided, I ventured my coursework into engineering, business, pre-med, physical therapy, and animation. Upon joining a pre-dental club, I finally discovered my path and I graduated in 2007 with a Biology degree.
Dental school took me to Kansas City, MO and the UMKC School of Dentistry. Yes, a Hawaii boy had managed to venture from the islands, to southern california, to the midwest. Keeping an open mind I discovered the welcoming Aloha spirit there. So much so, that I considered staying in the midwest. However, home has its way of calling us back, especially with family here. And thank you Hawaii Five-0 for making me homesick every Monday night!
My goal is to be a health care provider with an emphasis on oral health. Although trained as a dentist, I will do my best to bring all aspects of a patient's health to their attention and make the appropriate referral if necessary.
During my free time I enjoy the outdoors – hiking, kayaking, diving, paddle boarding, basketball, soccer, or simply walking through the sand and tides pools at the beach. I cannot get away from lounging indoors of course – movies, TV, art, and following the Los Angeles Lakers and USC football.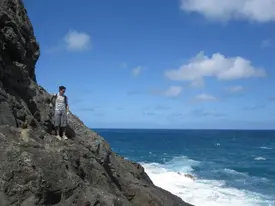 Memberships
American Dental Association
Academy of General Dentistry
Hawaii Dental Association
Hawaii Dental Forum
Spear Faculty Club Member
I'm a huge fan of animals and spent a few months volunteering dental services with a veterinarian at the Kansas City Zoo. I also spent some time volunteering at the Honolulu Zoo Veterinary Clinic.